March 31, 2021
Westport's Robin Jones is the newest member to be appointed to the Ontario Arts Council (OAC) board of directors.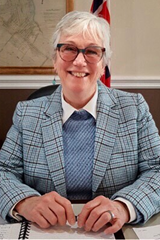 Robin brings significant professional expertise to the OAC board in addition to her love of both music and ceramics. Currently she serves as the mayor of Westport in eastern Ontario. (Read more…)
"The scope of Robin's municipal experience as well as her years of living and working in rural Ontario, are welcome assets to any provincial board, but especially one with such a broad mandate," said Rita Davies, OAC Chair.
The Ontario Arts Council has a 12-member government-appointed board of directors that is responsible for oversight of OAC's granting process, including policies and decision-making. In 2019-20, the Ontario Arts Council invested $51.9 million in 197 communities across Ontario through 1,965 grants to individual artists and 1,152 grants to organizations.